Building Machine Tables
Updated (02/03/2013)


Table (1) - 48" Pan and Box Break - Located lower left of Machine room, Lite Gray.
Table (2) - 11 x 27" Lathe / DRO - Located left lower Machine room, Blue.
Table (3) - SX3 Mill - Drill - Located center Machine room, Lite Green.
Table (4) - CNC Table (plasma, engraving, router)- - Table upper right Machine room, Dark Green.



First of four tables

Above a 48" - 16 gauge, Box and Pan Break (finger break) setting on floor, 365 lbs. Much cheaper if you buy bench model. Making sheet metal box. Bryan's Video demo.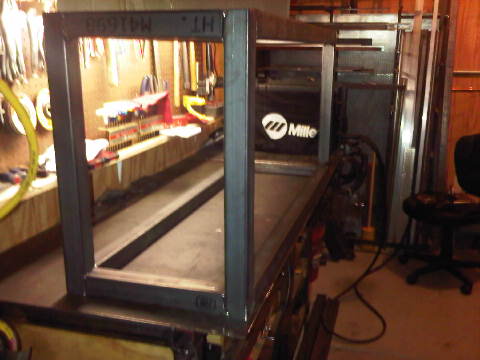 Pretty square table - 17" x 24" x 52". Table top will be 34" tall.

Material:
G5769 48" Pan & Box Brake, link.
2" x 2" .120 (1/8") wall, square tube.
250 lb casters from Harbor Fright, for a 1000 lb table weight.
1/4" expanded steel for shelfs.


Painted, ready to bolt on break.




I ran out of material, so worked on finishing tables today. Above I added another shelf on left side, with 1/4" expanded steel. Then a wood work surface top. Bottom shelf will have 1 to 200 + lbs tools for counter balance, see above.

Second of four tables

Lathe table frame. 16" x 29" x 48" looking at back side here, the drawers will be on the right. Drawers 6" x 12" x 16". 375 lb casters.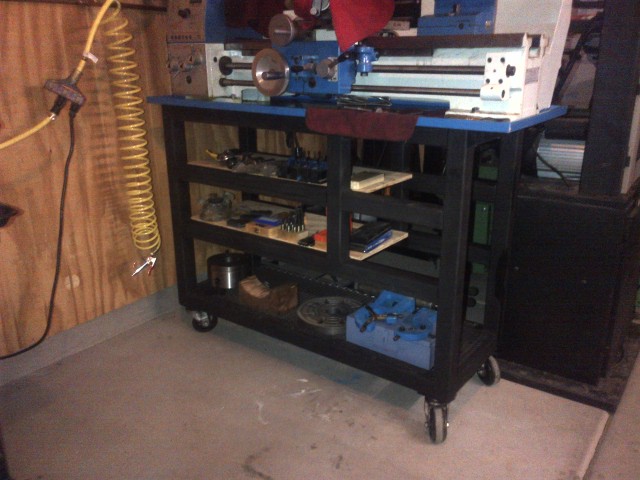 Added 2 wood shelfs and 1/4" expanded steel, bottom shelf. Drawers will be added on right. Like being able to push this 718 lbs around.

Third of four tables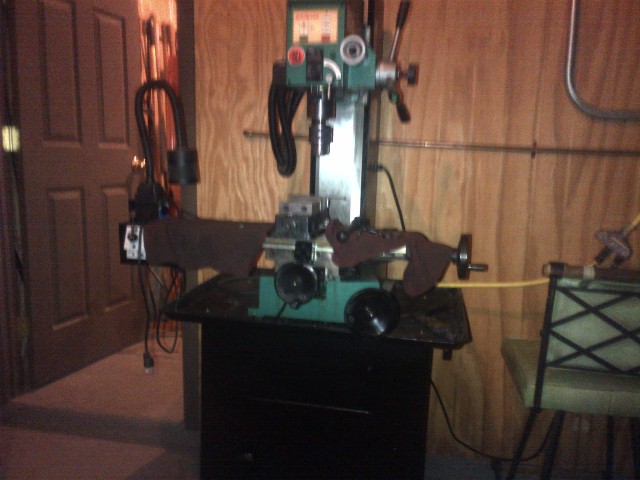 This is not a functional table.

Painted and ready to add 1/4" steel top and wood shelves.
Steel top added. Right top of table will be filled with shelves for holding many types of cutting tools end mills drill bits, chucks. Bottom shelves will be filled with larger milling tools, divider plate, chucks.

More coming on this table.

Forth of four tables
Next table is a Plasma cnc table. See Plasma table build.